Garibbean
The Garibbean, which obviously sounds a lot like the Caribbean, is a virtual habitat of mine. It is a combination of reality and my desires to coexist in the tropics. The Garibbean is my fractional portion of Louisville, a large community in the great Commonwealth of Kentucky. It is located in Jefferson County and is a metro government with a population of just over 750K. It's much closer to the majestic Ohio River than the blue waters of the Caribbean, and finds only about 193 days of sunshine a year, but it's my part of America, and I love it.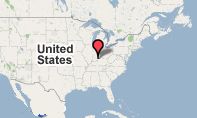 I also enjoy many of the places that I have visited over the years, such as Key West, Florida, Maui, Hawaii, and the entire California Coastline. As far as latitudes go, the Garibbean is about 14o north of Key West, which is a destination that this site explores. I spent some time on the left coast in the 80's (latitudes in the 30's) and I thought it was beautiful, with an outstanding climate. I did Maui in 2003 (latitude just past 20o), and loved everything about it except the long flight. They are all great places to visit, and most likely, fine places to live. I would still like to visit the sub-tropical climate on the Oregon Coast. It's latitude (45 point something) would be about 8 degrees north of where I am now.
At times I wish my home was in those lower latitudes, that constantly tug at my soul. The Garibbean is about 20 degrees of latitude north of some of the prettiest places and best weather on the planet. I really enjoy the tropics, which I try to pop in on frequently. From Key West to the Virgin Islands, I've never had a bad experience in the land of sultry islands.

Where you live or hangout is not important, but being a part of what goes on is. That is why the sound off page is important. It will allow you to email the people who should be able to make a difference. Sound off when you feel like it. It Works!